Process principle
First of all, the contaminated air is drawn in through the process fan and heated with the aid of an electric heater or gas burner to the required reaction temperature. Subsequently, the pollutants are converted into carbon dioxide and water in the combined reactor and heat storage bed. The emitted heat from the reactor is passed over a second bed and is stored there. After the storage bed is heated up, the process air direction is changed. The stored heat is used to preheat the process gas stream and afterwards the pollutants are oxidized in the first bed. In the next stages of the operation, it is cyclically switched between these states.
Advantages
low energy costs due to the high thermal efficiency • robust systems engineering • high durability • approved technique • universal application • automatical adaption to changing operating conditions • catalytic operation possible • compliance with exhaust air regulations is ensured
Basic configuration
air distributing system • process air fan • burner • combustion chamber • thermal storage • insulation • base frame • safety devices • process measuring and control technology • data recording
Supplementary configuration
exhaust air chimney in variable design • system by-pass • dust separator • explosion protection • container installation • multi-fuel burner • catalyst module for catalytic operation • anticorrosive coating • hot gas discharging
Standard sizes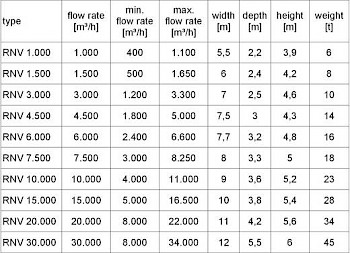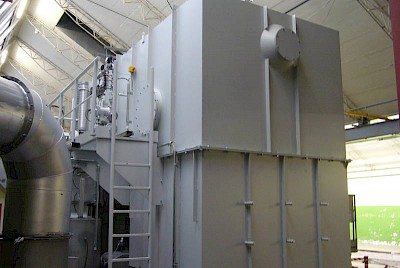 2-chamber regenerative oxidizer for the purification of solvent-containing process air from a painting process of an automotive supplier. Cleaning efficiency: 12,000 m³/h. This type of system is promptly available on a rental basis.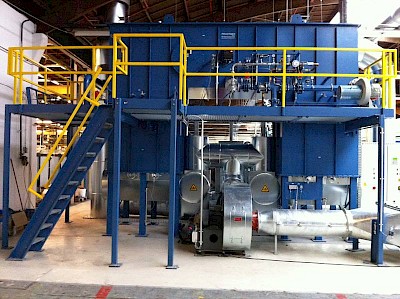 2-chamber regenerative oxidizer with integrated peak storage and hot gas exfiltration. The depicted system purifies exhaust air from a coating system with drying process. Cleaning efficiency: 1,800 to 5,000 Nm³/h. The system can be universally used for further industrial applications to eliminate VOCs.
NEW - Regenerative Thermal Oxidation Systems
Serie RTNV-ESN-X
Energy saving, low height construction
Ideal for all large-scale manufacturers / system engineers
Drawing: Reactor
Functioning:
Purification of VOC-loaded exhaust air
Clean gas values according to guidelines of the German air quality control (TA-Luft)
Advantages of the energy saving, low height construction of Prantner:
- can easily be integrated in production plants where VOCs have to
be eliminated. Ideal for large-scale manufacturers of drying and coating
systems, due to cartridge construction
- can also be installed in rooms with very low hight
- easy maintainance through optimized heat storage handling
- improved static load per area unit
- secure access to components that need to be maintained
- external installation possible without any problems
Proceeding:
The process gas is lead through a pipe system with integrated switching mechanism to the horizontal reactor. After passing the heat storage, the process gas enters the combustion chamber. Here it is heated up to the necessary reaction temperature with a gas burner so that harmful substances of the process air can be oxidized. After the oxidation, the purified air leaves the reactor while giving heat to the heat storage and then reaches the outside through the pipelines.
After a determined period of time, the flow direction in the reactor is reversed to achieve an increase of the energy efficiency by using the heat energy of the heat storage. Thus, the power needed for operating the gas burner is reduced to a minimum.

Innovation:
Our customers benefit from the RTNV-ESN-X system by saving space and energy. This space saving solution was implemented through a process optimated concept, special high-temperature resistant materials, components and insulation. With its wide range of integration possibilities, the RTNV-ESN-X system offers substantial advantages to all large-scale manufacturers / system engineers who have to eliminate VOCs according to the German air quality control (TA-Luft). Also for existing systems that need an upgrade to fulfil the air quality requirements, the RTNV-ESN-X system is the right choice.

Ask our experts for advise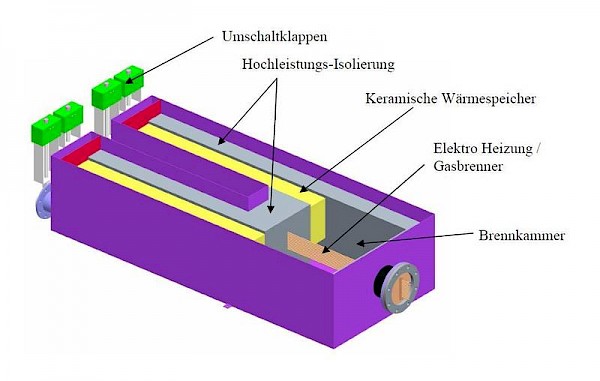 Technical data drawing above:
RTNV-ESN-200 (energy saving, low height construction-200)
Process gas volume: up to 200 Nm³/h
Process gas temperature: up to 400 °C
Clean gas temperature: 30°C – 450°C
Pressure drop: < 16 mbar
Process gas load: up to 2000 mg/m³ (up to 20% LEL optionally)
Further dimensions of the RTNV-ESN-X serie up to 15.000 Nm³/h upon your demand