Neutralization of heating systems condensates
With calorific value
This proceeding of Prantner is used in furnaces and combustion facilities that are powered with natural gas or mineral oil products and includes the associated exhaust systems.
The acid condensate from the heat exchanger in the heating system is led into a container where the circulation and alkalization start, depending on a freely selectable level, i.e. the circulation pump is in operation for a minimal time. Thus, the energy consumption can be adjusted to the actual conditions. In parallel with the circulation, the control of the pH value measurement and the alkali dosage is active. When the freely adjustable pH value is reached, the then neutral condensate is discharged from the system. An alkalizing solution is used to raise the pH value. It is far more concentrated than the alkalizing solution used in the conventional proceeding. Thus, the refill intervals are prolonged significantly. During circulation and dosage operation, newly formed condensate can continuously flow into the reaction container and therefore, a continuous neutralization operation is possible. The condensate supply does not need to be switched off during the conventional draining phase. In the event that the acid condensate has a certain quality, the owner of the system can also set that direct induction is possible, i.e. without prior circulation.

Advantages
continuous operation without maintenance up to a year!
individual design - tailored for you
direct induction
All described advantages reduce the costs for operation and maintenance of the neutralization process, compared to alternative proceedings. Ask for an offer.
Neutralization of heating systems condensates
Das Verfahren von Prantner wird eingesetzt bei Feuerstätten und Verbrennungseinrichtungen, die mit Erdgas- oder Mineralölprodukten betrieben werden einschließlich der zugehörigen Abgasanlagen.
Das saure Kondensat aus dem Wärmetauscher der Heizungsanlage wird in einen Behälter geleitet, in dem abhängig von einem frei wählbaren Füllstand die Umwälzung und die Alkalisierung beginnen, d.h. die Umwälzpumpe ist eine minimale Zeit in Betrieb. Somit wird der Energieverbrauch den tatsächlichen Gegebenheiten angepasst. Parallel zur Umwälzung ist die Steuerung der pH-Wert-Messung und der Laugendosierung aktiv, die bei Erreichen eines frei einstellbaren pH-Werts das nunmehr neutrale Kondensat aus der Anlage schleust. Zur Anhebung des pH-Werts wird eine Alkalisierungslösung eingesetzt, die erheblich konzentrierter ist, als die im herkömmlichen Verfahren zu benutzende. Hierdurch wird eine wesentliche Verlängerung der Nachfüllintervalle erreicht. Während des Umwälz- und Dosierbetriebs kann ständig neu gebildetes Kondensat in den Reaktionsbehälter nachlaufen, d.h. es ist nun ein kontinuierlicher Neutralisationsbetrieb möglich. Der Kondensatzulauf braucht während der herkömmlichen Abpumpphase nicht mehr abgeschaltet zu werden. Für den Fall, dass das saure Kondensat eine entsprechende Qualität aufweist, kann die Anlage vom Betreiber auch so eingestellt werden, dass ein direkter Einleitbetrieb möglich wird, d.h. ohne vorhergehende Umwälzung.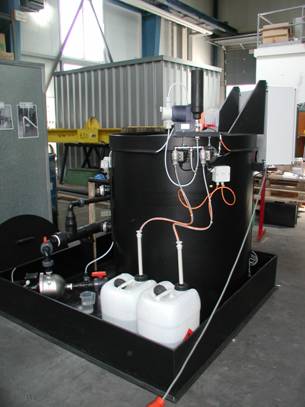 Vorteile
kontinuierlichen wartungsfreien Betrieb bis zu einem Jahr!
individuelle Auslegung - für Sie maßgeschneidert
direkter Einleitbetrieb

Alle geschilderten Vorteile reduzieren die Kosten für Betrieb und Wartung des Neutralisationsprozesses im Vergleich zu alternativen Verfahren.
Fordern Sie ein Angebot.